Integrations Available with Adobe Acrobat
Get more out of your Microsoft 365 apps — create, edit, share and manage PDF workflows seamlessly.
View high-fidelity PDFs and annotate by adding text, comments and more directly in Microsoft Teams, OneDrive and SharePoint (no paid Acrobat license required).
The Adobe Acrobat integration for Microsoft Teams lets you review and markup PDF files with your colleagues without leaving the app you're using all day, every day.
Convert Microsoft 365 files to PDFs without ever leaving OneDrive. And when working in Acrobat, access and store files right within your OneDrive account.
See how easy it is to convert Word, Excel and PowerPoint files to PDF right within the apps.

Now Available: Adobe Acrobat as default PDF experience in Microsoft Teams
You can now set Acrobat as the default app for your PDFs in Teams ensuring you stay in the flow without needing to switch between apps. Collaborate in real-time with multiple stakeholders simultaneously viewing, commenting, and annotating the PDF.
Blog
Article
Feature
Comparison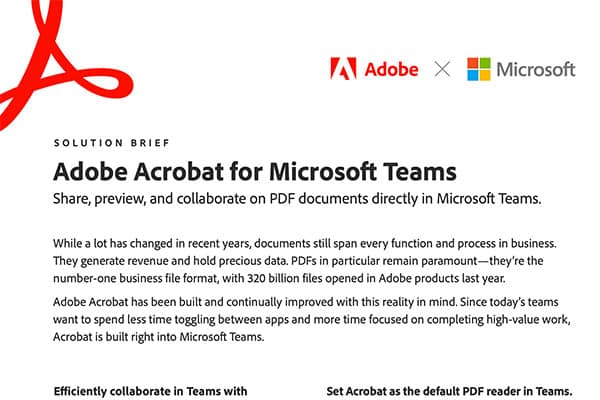 Solutions
Brief
Setting up permissions
Ask your Microsoft Teams admin to set up permissions for Adobe Acrobat to be the default app for viewing and editing PDFs.
Protect Your PDFs with Microsoft Sensitivity Labeling Directly in Adobe Acrobat
Microsoft Purview Information Protection (MPIP) already classifies, labels and protects Word documents, Excel spreadsheets, and PowerPoint presentations. This integration brings the same familiar capabilities to PDFs via Acrobat.
Read about how we see MPIP in Acrobat as fundamental and game-changing for organizations as the need for security for digital assets continues to increase.
See how you can protect PDFs by adding, editing, customizing and deleting Microsoft Sensitivity Labels directly in Acrobat.
Watch the conversation between Microsoft's Rudra Mitra, Corporate VP for Data Security & Privacy, and Adobe's Deepak Bharadwaj, VP of Product Management.
Take a step-by-step tour of how to apply a Microsoft Sensitivity Label to a PDF directly in Acrobat.
Questions?
Have questions on the MPIP integration with Adobe Acrobat?
Integrations Available with Adobe Acrobat Sign
Prepare and send documents for signature and easily track their status right within your favorite Microsoft 365 apps.